3M 947A Hookit Cubitron II Cloth Disc 150mm 6 Holes - Pack of 25
3M 947A Hookit Cubitron II Cloth Disc 150mm 6 Holes - Pack of 25
3M Part Number 3M45719
3M™ Precision Shaped Grain cuts exceptionally fast, helping increase productivity
3M™ Hookit™ disc is easy to change and reuse, maximizing utility for the life of the disc
X-weight cloth backing is tough and durable for aggressive sanding action
Grinding aid helps to further reduce heat and grinding temperatures
All 947A discs are Hookit (grip-backed) and would suit any sander (please ensure the diameter you order is correct) including but not limited to the Festool Rotex DA Sanders, Festool Rotex RO150, Mirka DA Sanders, Indasa DA Sanders, Flex Sanders, Bosch DA Sanders, Makita DA Sanders, Delmeq Electric Orbital Sanders and even multi disc sanders such as the Bona Flexisand Powerdrive and any machine with the correct diameter. Speak to BND Abrasives for more info on 01264354133.
Product Details
3M™ Precision Shaped Grain cuts exceptionally fast, helping increase productivity
3M™ Hookit™ disc is easy to change and reuse, maximizing utility for the life of the disc
X-weight cloth backing is tough and durable for aggressive sanding action
Grinding aid helps to further reduce heat and grinding temperatures
Resin bonding material resists heat and helps to prevent discoloration
3M™ Cubitron™ II Hookit™ Cloth Disc 947A offers revolutionary performance with 3M Precision Shaped Grain on an X-weight polyester-cotton cloth backing. Our high-performing disc contains a grinding aid, making it ideal for medium to high pressure applications on stainless steel and other exotic alloys, along with carbon steel, cobalt chrome, and nickel alloys.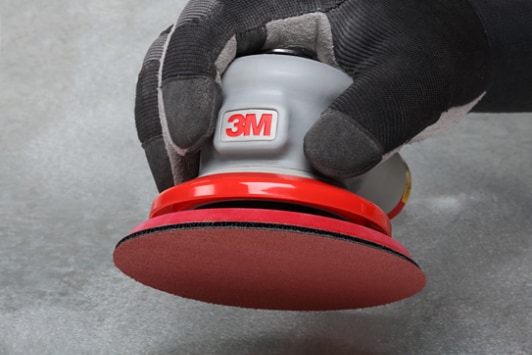 Ideal for shaping, dimensioning and detailing architectural elements
The Cubitron™ II Advantage
3M™ Cubitron™ ll Hookit™ Cloth Disc 947A is best suited for metal sanding thanks to its durability and fast cutting abrasive material. Our proprietary 3M™ Cubitron™ II abrasive products have raised the bar for high-performing abrasives. Our engineers started with 3M™ Ceramic Abrasive Grain and electrostatically oriented each triangular structure on the backing to form sharp peaks and maximize cutting potential. These peaks act like individual cutting tools that slice through metal, and continuously self-sharpen as the points break off, ensuring extended high performance in heavy-duty production applications. The grains wear evenly and provide extra-long life and consistency. | 
Learn More
 (PDF, 1.95 Mb) 
The Convenience of Hookit™ Design
3M™ Cubitron™ II Hookit™ Cloth Disc 947A is designed with a Hook-and-loop style backing for quick attachment and removal. 3M™ Hookit™ discs are ideal for work spaces where adhesive backed discs may become contaminated by dust, dirt, or flying debris. Hookit™ sanding discs conveniently and firmly attach to a 
hook-and-loop backup disc pad
 (sold separately) on a 
random orbital sander
, and can be re-used again and again for the extent of the abrasive life. 
Discover More 3M™ Abrasive Tools and Accessories 
(PDF, 4.29 Mb)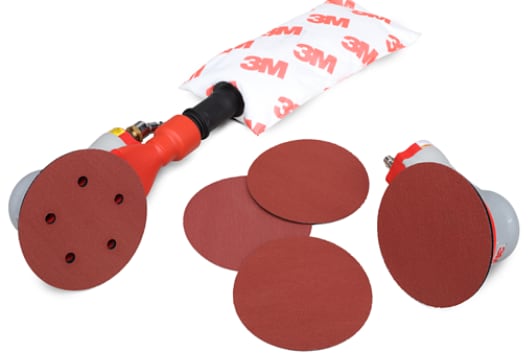 The power of 3M™ Precision Shaped Grain Technology with convenient Hookit™ quick-change attachment
Tough, Durable and Heat Resistant
3M™ Cubitron™ ll Hookit™ Cloth Disc 947A features both an anti-friction grinding aid and a resin coating, which helps the disc run cool during high pressure applications, and helps prevent metal surface discoloration. The sturdy, X-weight backing gives excellent strength and durability to the disc, and allows for more aggressive use for longer periods. These attributes make Cubitron™ ll Hookit™ Cloth Roll 947A a good match for projects that require an equally durable and aggressive abrasive disc. 
More Information

| | |
| --- | --- |
| Type of Product | Velcro Discs / Self-Adhesive Discs |
| Product Name | 3M 947A Hookit Cubitron II Cloth Disc 150mm 6 Holes - Pack of 25 |
| Fixing Type | Hook-Face / Velcro / Grip |
| Series | 947A |
| Manufacturer | 3M |
| Max RPM | 12,000 |
| Manufacturer's SKU | No |
| Pack Quantity | 25 |
| Mineral Type | Cubitron II (Red/Orange) |
| Backing Material | Cloth X-wt Backing |
| Diameter | 150mm (6in) |
| Extraction Hole Pattern | 6 Holes |
| Grit | N/A |
| Equipment Tool | Random Orbital Sander |
| Materials Used On | Hardwood (Oak, Walnut, Maple, Cherry), Softwood (Pine, Beech, MDF) |
| GTIN | No |
| Commodity Code | N/A |
| Manufacturer's Stock Number | N/A |